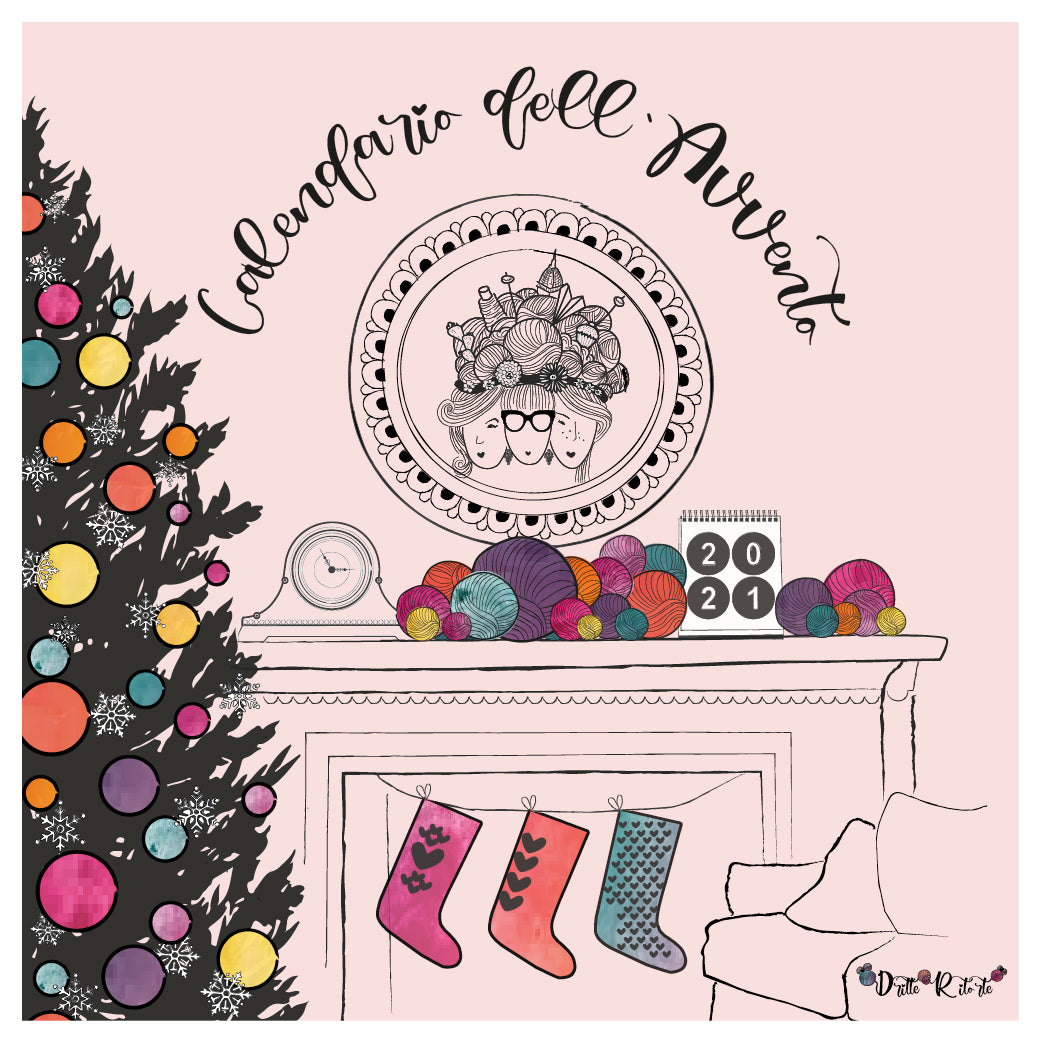 Calendario dell'Avvento delle Dritte Ritorte - 2021
Terminato
 --- PER VARE IL CALENDARIO IN TEMPO PER IL 1° DICEMBRE DOVRETE ACQUISTARLO ENTRO IL 24 NOVEMBRE ---
Lo scorso dicembre abbiamo provato, per la prima volta tutte e tre contemporaneamente, la febbricitante attesa del Natale ognuna con un Calendario dell'Avvento di filati diverso.
L'esperienza è stata così emozionante che abbiamo pensato che sarebbe stato bello se ogni knitter, appassionato come noi di filati e colori, avesse potuto replicare quell'emozione nel calore della propria casa scoprendo giorno per giorno una matassina diversa, immaginandosi quelle future, programmando un pattern da seguire, stupendosi dell'alternanza dei colori, dei metodi di colorazione… da qui nasce la nostra idea di creare un Calendario dell'Avvento di filati 2021.
Il progetto prende presto vita, almeno nelle nostre tre testoline: comincia la fase di sogno ad occhi aperti, ricerca e progettazione e ci rendiamo presto conto di dover condividere questo progetto con dei professionisti del settore per rendere l'esperienza davvero appagante e completa.
Innamorate dei suoi filati e della sua professionalità e simpatia, abbiamo deciso di coinvolgere nel nostro progetto Francesco aka Dark Omen yarn, che alla proposta di tingere le nostre matassine risponde pieno d'entusiasmo, nonostante non nasconda l'impegno necessario per ideare e tingere 25 colori unici (pensati da 3 teste diverse!).
Subito dopo, tramite una call su Instagram ad Elena Valguarnera viene dato l'onere di cucire la nuova veste grafica delle Dritte Ritorte, perché per ogni tappa importante che si rispetti ci vuole un vestito adatto, e il vecchio logo non ci rispecchiava a pieno; il logo, le grafiche del Calendario Dell'Avvento e della comunicazione sono merito suo.
Nell'ideare il Calendario dell'Avvento abbiamo cercato di mettere attenzione al dettaglio in tutti quelli che, per noi erano i punti fondamentali per ricreare un'elettrizzante attesa verso il Natale.
In particolare, insieme a Francesco, abbiamo pensato e particolareggiato la scelta del susseguirsi dei colori: ogni giorno troverete una matassina di colore diverso, ciascuna collegata da un filo conduttore alle altre permettendo alla combinazione di filati di adattarsi ai più disparati pattern garantendone l'armonia e l'omogeneità.
Trovate il Calendario dell'Avvento delle Dritte Ritorte in pre-vendita presso Wool Crossing (negozio fisico di persona) o su shop.woolcrossing.it.
Trattandosi di materiale artigianale, le matasse sono tinte a mano, il Calendario dell'Avvento delle Dritte Ritorte sarà disponibile in numero limitato e dati i lunghi tempi di realizzazione la vendita terminerà in ogni caso il 15 settembre 2021. Dopodichè le elfe di Babbo Natale, Federica Roberta e Federica, prepareranno i vostri pacchetti! 
Il calendario dell'Avvento delle Dritte Ritorte comprende:
-25 matassine da 20 gr ciascuna, per 80 m di filato Fingering, 100% pura lana merinos super wash
- uno zainetto portaprogetto delle Dritte Ritorte
- idee per utilizzare il calendario dell'avvento.
Per condividere con voi la gioia dell'apertura dei primi 5 pacchetti abbiamo piacere di invitarvi ad un appuntamento su Zoom domenica 5 dicembre dalle 10:00 alle 12:00. Sarà un modo per condividere la gioia dello spacchettamento in una rilassante domenica di dicembre e potremo anche scambiarci gli spunti per i progetti che abbiamo pensato di avviare con le meravigliose matasse del nostro Calendario.   
Nella cartolina di accompagnamento, insieme alle indicazioni per collegarvi a Zoom per l'appuntamento del 5 dicembre, troverete il link alla playlist di Spotify del canale delle Dritte Ritorte per accompagnare ogni giorno lo spacchettamentoo con musica a tema natalizio.
Il costo per Kit Calendario dell'Avvento 2021 è di € 196,00 (spese di spedizione incluse per l'Italia e isole maggiori usando il codice: AVVENTO) . La spedizione non è inclusa per i pacchi inviati in UE e extra EU. Se acquistate da località non indicate nell'elenco selezionate "Ritiro in Sede" indicando comunque il vostro indirizzo e riceverete un'email con l'indicazione della stima delle spese di spedizione per il vostro indirizzo con la richiesta di pagamento tramite PayPal. 
A voi non resta che allestire un posticino accogliente dove sistemare i pacchetti e aspettare che il corriere suoni alla vostra porta.
Condividendo la quotidiana sorpresa speriamo di accompagnarvi verso un colorato e sereno Natale.
Federica, Roberta e Federica
---------ENGLISH---------
Last December we tried, for the first time the three of us at the same time, the feverish anticipation of Christmas, each with a different yarn Advent Calendar.
The experience was so exciting that we thought it would be nice if every knitter, passionate like us about yarns and colors, could enjoy  that emotion, discovering a different skein day by day, imagining the future ones, planning a pattern to follow, marveling at the alternation of colors, coloring methods ... hence our idea of ​​creating an Advent Calendar of 2021 yarns.
The project soon comes to life, at least in our three little heads: the phase of daydreaming, research and design begins and we soon realize that we have to share this project with professionals in the sector to make the experience truly satisfying and complete.
In love with his yarns and his professionalism and sympathy, we decided to involve Francesco aka Dark Omen Yarn in our project, who welcomes our idea with enthusiasm, despite not hiding the commitment necessary to design and dye 25 unique colors (designed by 3 different heads!).
Immediately afterwards, Elena Valguarnera was given the burden of working at the new graphic design of Dritte Ditorte through a call on Instagram; the logo, the graphics of the Advent Calendar and communication are thanks to him.
In designing the Advent Calendar we tried to pay attention to detail in all those which, for us, were the fundamental points to recreate an electrifying expectation towards Christmas.
In particular, together with Francesco, we have thought and detailed the choice of the succession of colors: every day you will find a skein of a different color, each connected by a common thread to the others, allowing the combination of yarns to adapt to the most disparate patterns, guaranteeing their harmony. and homogeneity.
Find the Dritte Ritorte Advent Calendar on pre-sale at Wool Crossing (physical store in person) or on shop.woolcrossing.it.
Being handcrafted material, the skeins are hand-dyed, the Dritte Ritorte Advent Calendar will be available in a limited number and given the long lead times the sale will end in any case on September 15, 2021. After that the elves of Santa Claus, Federica Roberta and Federica, will prepare your packages!
The Dritte Ritorte Advent calendar includes:
-25 skeins of 20 gr each, for 80 m of Fingering yarn, 100% pure super wash merino wool
- a project holder backpack from Dritte Twisted
- ideas for using the advent calendar.
To share with you the joy of opening the first 5 packages, we are pleased to invite you to an appointment on Zoom on Sunday 5th December from 10:00 to 12:00. It will be a way to share the joy of unpacking on a relaxing Sunday in December and we will also be able to exchange ideas for the projects we have decided to start with the wonderful skeins of our Calendar.
In the accompanying postcard, together with the instructions to connect to Zoom for the appointment of December 5th, you will find the link to the Spotify playlist of the Dritte Ritorte channel to accompany the unpacking or with Christmas-themed music every day.
The cost for the 2021 Advent Calendar Kit is € 196.00 (shipping costs included for Italy and the major islands using the code: ADVENT). Shipping is not included for packages sent to the EU and extra EU. If you buy from locations not indicated in the list, select "Ritiro in Sede", however indicating your address and you will receive an email indicating the estimated shipping costs for your address with the request for payment via PayPal.
All you have to do is set up a cozy place where you can arrange the packages and wait for the courier to ring at your door.
By sharing the daily surprise we hope to accompany you towards a colorful and peaceful Christmas.
Federica, Roberta and Federica